It was a great joy to be able to celebrate the livestreamed Vigil Mass from church last night. As some of you know our younger daughter Iris came out of the most vulnerable health category earlier this month as she completed six months since the end of her leukaemia treatment last October. I won't repeat here my homily at that Mass reflecting on World Communications Day. I will upload the pope's message for this, written a few months ago: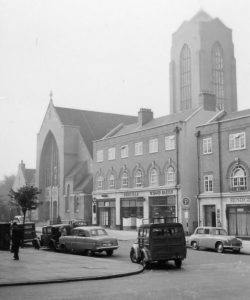 Seventy years ago today our church building was consecrated by Bishop Cyril Cowderoy. He had only become Bishop of Southwark (he did not become archbishop until 1965) the previous year so this must have been one of the first consecrations over which he presided. Catholic churches are often not consecrated for many years after they have opened as the building has to be 'free of debt'. St Edmund's had been completed twelve years before, in 1938. In those days the dedication ceremonies of churches were very long indeed, lasting several hours. The bishop anointed the walls of the church with oil (marked by crosses with candles now, which we would normally light on the anniversary) and he also traced on the floor with his staff all the letters of the Latin and Greek alphabets. The second picture here shows him consecrating another church (St Joseph's, New Malden) a little later than ours, in 1951.
We normally celebrate the dedication anniversaries of three churches every year: the pope's cathedral (the Basilica of St John Lateran, in November), our own cathedral in Southwark (also in November) and Beckenham's parish church – the liturgical celebration here is moved to tomorrow. While we are learning to cope temporarily without our physical presence in our church buildings, they're still important; they testify to the doctrine of the Incarnation and the ways in which we encounter God's grace through the beauty of art, architecture and music. For many decades our great church building has witnessed to God's love in Beckenham and communicated his love through the sacraments celebrated here. As we thank God today pray for the souls of Archbishop Cowderoy, the Parish Priest who was responsible for the building of St Edmund's Father Patrick Byrne, and the architect and builders.
God bless and take care
Fr Ashley
_____________________________________________________
Today is also, as Sister Pat reminded us in the parish newsletter, the feast of dat. As Pope Francis has just reminded us in his Regina Caeli address, this devotion is particularly associated with the Salesian order, so we pray today particularly for our community here in Village Way, and for vocations to the Religious life. The Holy Father paid tribute in his address to the support and formation he had received as a young man from Salesians in Argentina, which is detailed in biographies of him; in addition his family originally came from the region around Turin where St John Bosco began his work.
The pope also reminded us that Our Lady, Help of Christians, is patroness of China, and he sent a warm message to the Catholic Church there. So we should today pray particularly for them at this difficult time.
From our Facebook page…