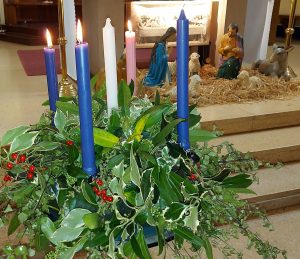 The fourth candle of Advent is called the 'Angel Candle' and symbolizes peace. This name comes from the fact that the angels announced that Jesus came to bring peace (Luke 2:14). This week we are reminded that Jesus came to bring peace to our hearts and to our world!
Today is Sea Sunday when the church prays for all those who live and work at sea. Without them we would not have most of the items we buy in the shops. Today's second collection is for Stella Maris (the Apostleship of the Sea), the official maritime welfare agency of the Catholic Church.
It supports seafarers both practically and spiritually.
For an appeal from Bishop Paul Mason, and for a video showing some of the work Stella Maris does, please visit their website. This collection is vital to enable Stella Maris to continue its important mission.
To donate, and for more information, please visit www.stellamaris.org.uk/donate or text SEA to 70460 to donate £5. Stella Maris is dependent on voluntary donations, so please give generously. Thank you.