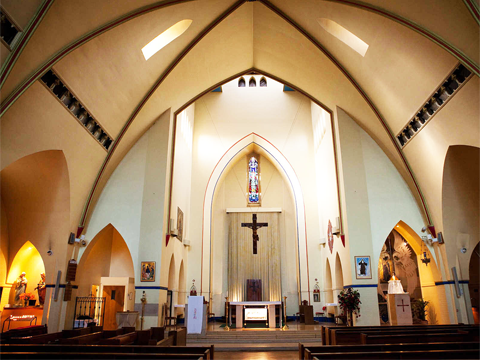 As you know it was announced at the weekend that the government is permitting churches and other places of worship to be open from next week. Your clergy team are working with others to ensure that this happens and details of the date when this can take place will be made known in due course. There has to be a Risk Assessment undertaken, stewards have to be appointed and arrangements for hand sanitisers and other requirements put in place. We are required to clean parts of the building regularly during the day, particularly door handles and pews.
You need to be aware that the open hours will be restricted (two periods each day, one in the morning and one in the later afternoon) and so will the numbers of people allowed into the building at any time and the length of time people will be able to stay there will also be regulated, to permit others to come in. As was the case before lockdown the Holy Water stoups will be empty; you will also not be allowed to touch statues. Also corporate acts of worship will not be possible at this stage – you will only be allowed to pray silently on your own. Some areas of the church will be cordoned off, such as the Lady Chapel, and the lavatory will be locked. One of the entrances and an area of the church will be set aside for vulnerable and disabled people.
This may well look rather restrictive but I am sure you appreciate that at this critical time the Church and this parish have a responsibility to ensure the health and safety of those who come into our church, after over two months when this has not been possible, to pray. This means thinking of other people, not ourselves, and respecting the very clear guidelines which have been set out by the Catholic Bishops Conference of England and Wales and, here, the Archdiocese of Southwark. As has been the case during lockdown, the Blessed Sacrament will be exposed on the altar during the day.
More details will be publicised when they are finalised.
God bless and take care
Fr Ashley
From our Facebook page…