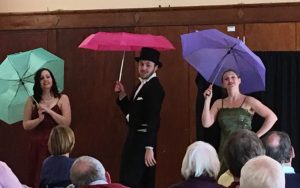 The benefits of music to stimulate the senses of those with memory loss and dementia are becoming widely recognised and at St Edmund's Drop in Café we enjoy singing and reminiscing through music most Thursdays from 2 until 4 pm. We also enjoy plays and pantomimes performed by The Rah Rah Theatre company and musical afternoons when Sweet Harmony come and put on a show for us.
Our latest entertainers were our youngest yet; John and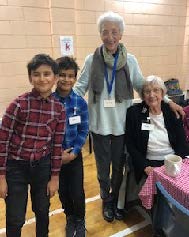 James Stoner aged only 8 and 9 years came to sing and play the piano and were so talented and delightful and stole the hearts of many guests. The boys attend St Josephs Parish Church in Bromley and John, who has a most beautiful voice, has just been selected as a chorister at Westminster Cathedral Choir School.
We are lucky to have the keyboard skills and encouragement of Rose Remedios, and lately we have welcomed Joseph Gulliford, St Edmund's Wonersh seminarian, who is an all-round troubadour on keyboard, guitar and vocals.
On November 7th we are being entertained by a Barber-shop Quartet so if you would like to join us, please do and come and enjoy the afternoon of music and light refreshments and a warm welcome.
Nicola Platman