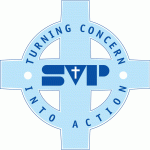 You may have heard the talk by SVP representatives at Masses last weekend. This weekend there will be a second collection in support of their work, details of which can be found on the SVP Website.
The Beckenham St. Vincent de Paul group is hosting a Christmas lunch for older parishioners  on Monday 9 December in St. Edmund's Church Hall on Village Way. The lunch will be a warm, welcoming and festive experience and pupils from St. Mary's primary school will give a Christmas carol performance. Transport will be available for anyone who needs assistance.
For those on a low income there will be no charge and otherwise there is a suggested donation of £15 per person to help preserve our charitable funds.
To reserve your place and request transport if required, please contact Fiona Ross on o20 8460 2322 or by email. You can also ask Fiona about getting involved with the St. Edmund's SVP group.