On Good Friday we need a couple of volunteers to guide the walkers and help direct the traffic during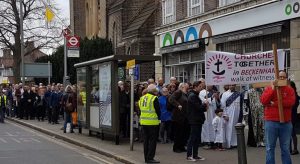 the Churches Together in Beckenham (CTiB) Walk of Witness service, which starts at St. Edmund's at 11am and proceeds to St. George's Green. There will be a stewards' briefing at 10.40am outside St Edmund's. If you can help, either with stewarding or by handing out service leaflets at St Edmund's please contact Angela Dowling  by calling or texting 07725860734.
We are also looking for a few more readers for these Easter Services:
Maundy Thursday – March 29 at 8pm
Good Friday – March 30 at 3pm
Easter Vigil – Saturday March 31 at 8pm
Contact Rosemary on 07956 109465 or by email.
Holy Saturday blessing of Easter Food (31 March) We would like to encourage
parishioners from Central and Eastern Europe to come with their families and of course all parishioners of whatever nationality are warmly welcomed too. Bring a basket (traditionally containing lamb, which of course signifies Jesus, the Lamb of God, boiled eggs, dyed and plain, Pascha (a special Easter bread), and other foods which you intend to eat on Easter Sunday). Of course you don't need to bring all this but it would be great if children could bring decorated eggs. All the baskets are processed to the sanctuary and blessed. Contact Agata on 07783316010 or boguniaagata@gmail.com for more information.
ALL ARE WELCOME TO OUR EASTER SERVICES, DETAILS OF WHICH CAN BE FOUND IN OUR NEWSLETTER.