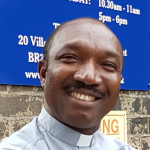 I truly cannot find words adequate enough to express my pro-found gratitude to you my beloved St Edmund's family, my cherished family of God's peoples. Sunday was a demonstration of your sincere love for me and appreciation of my little services to you. I am still shocked and amazed at your kindness. It was a day full of mixed feelings, excitement and fulfilment for me. I was profoundly happy and everybody in attendance was richly joyful. Thank you for making my day colourful, memorable and joyful.
I thank God for being with you for 6 years in St Edmund's: to him be the glory. I remain grateful to my colleagues: Frs Steve, Ashley and Deacon Sean for their wonderful collaborative ministry, collegiality, support and love. I was very much at home with our wonderful house keeper Von (a mother) and our secretaries Barbara and Rosemary, blessings to you.
To you my beloved parishioners, it was because of you I was sent to St Edmund's and you accepted me with a fraternal love. You truly made me happy in St Edmund's as a family; thanks for your friendship, encouragement, love and support. Your wonderful gifts, kind words, sacrifices at my send off party are greatly appreciated. Your physical presence and celebrations was a demonstration of your sincere love for me – thank you so much. May the good Lord continue to bless your families with spiritual riches from above.
I'm sad to leave you but we cannot argue with the holy spirit of mission. His mission is for a purpose; may his will be done. My heart still remains with you in Beckenham, I will always visit from Croydon, 15 minutes away. Pray for me always to remain a happy priest and I will always remember you in my prayers and masses. Kindly give Simplicio the same support and love.
Thanks, thanks, thanks and God bless you.
Fr Mark
You can see photos taken at Fr Mark's leaving party HERE.