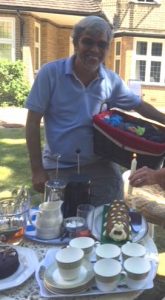 Our dear Fr Simplicio has finally left us. Having returned to us at St Edmund's to assist during the first lockdown, rather than remain on his sabbatical, he has now been appointed Priest in Charge at St Dominic's, Waddon.
We shall miss his quiet calm presence and his ability to turn his hand to anything whether in the church or in the presbytery. His planning and attention to detail ensured we could safely re-open the church and once again welcome parishioners back to celebrate Mass.
We wish Fr Simplicio a happy and rewarding time in his new parish.