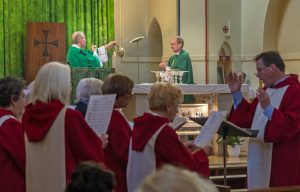 The 9:30 choir will be finishing for their summer break after Mass on Sunday 21 July and will return on Sunday 8 September. If any one is interested in joining them to sing please contact Cathy Denne on 07956 914164.
The Folk Choir will also sing at their last Mass before the summer break on 21 July, but the Chorale will sing theirs on 28 July.
Many thanks to all these groups for the dedicated work they put in to prepare for the Masses at which they sing and all the special celebrations that they enrich with their music.
If you are interested in joining one of our choirs please contact the Parish Office.