I have always been comforted by the soothing sound of people praying the rosary when I enter St Edmund's church to celebrate the 10 am Mass. Above all it comforts me to know the efficacy of such a powerful weapon of intercession and protection. As you may know we have now entered the month of October a special month of the rosary. Also, this  Sunday is Rosary Sunday and on Monday it is the feast of The Holy Rosary, a celebration that dates back to 1571 when Christians were victorious at the Battle of Lepanto. 
Recently I picked up a copy entitled The Secret of the Rosary by Louis De Montfort. I'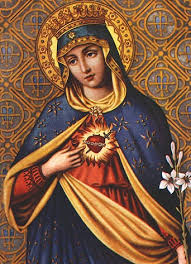 m sure many of you have read it or at least know of it. On the front cover is a picture of the  sorrowful and Immaculate heart of Mary (see picture). Apparently, this picture was discovered in a cellar in a boarding school in France at the time of the 1918 armistice. When the troops withdrew, a Bernadine nun set about putting things in order and came across a piece of cardboard on which was pasted a pornographic picture. She ripped it off in  disgust to burn it only to find to her amazement that it  concealed a beautiful representation of the sorrowful and Immaculate heart of Mary. 
It is said that Berthe Petite, a humble Franciscan tertiary who had been educated at the Boarding school where the picture was discovered received the following message from the Lord: Teach souls to love the heart of my Mother pierced by the very sorrow which pierced mine. (25th  December 1909).
The feast of the Holy Rosary may have its origins from a 16th century battle but there is a bigger more important  battle still raging over the souls of men and women all over the world. However, our mother Mary will always be with those loyal to her Son and just as with the picture found in a French boarding school over a hundred years ago, any attempt to keep her from us will ultimately fail.
Last Monday we were invited by the Church to start praying for and thinking about a whole year dedicated to the Bible, the holy word of God (The God who speaks – A Year of the  Word). It was a very fitting time as it was the feast day and the 1600th anniversary of the death of St Jerome who translated the Bible into Latin. It was also the 10th  anniversary of Verbum Domini, Pope Benedict XVI's Apostolic  Exhortation on the Word of God. So, please pick up a Bible as soon as you can and read a little each day. Start with the Psalms or the Gospels. It will enrich your life. 
In conjunction with this I would like to mention that next Sunday is  Prisoner Sunday. I came across the following story, a powerful message in how the Bible can help set those who are captive free.
There was a young man serving time in prison for murdering a woman of a similar age. He had been high on drugs and alcohol and was now living with guilt and remorse. However, he found  compassion, forgiveness and peace on visiting the prison chapel and in the support of the chaplain. Gradually he began to restore his life and eventually was received into the Catholic Church. Having served his sentence as a model prisoner, he was released, settled back into society and into a parish, turning his back on crime forever. He readily admitted while being interviewed in prison that an integral part of his transformation was due to the Bible which instilled in him renewed hope in a merciful God.
This Sunday I leave for Poland with pilgrims mostly from this parish and some from other parishes. We meet at 5.00 am at the church to depart shortly afterwards for Heathrow, so please pray that all alarm clocks are working and  everyone responds to them. I ask this particularly for the chaplain of the group!!  Rest assured we will pray for you all and if you would do the same for us, for a safe journey there and back and an enriching and rewarding pilgrimage, we would be very appreciative.
God bless,  Fr Steve.