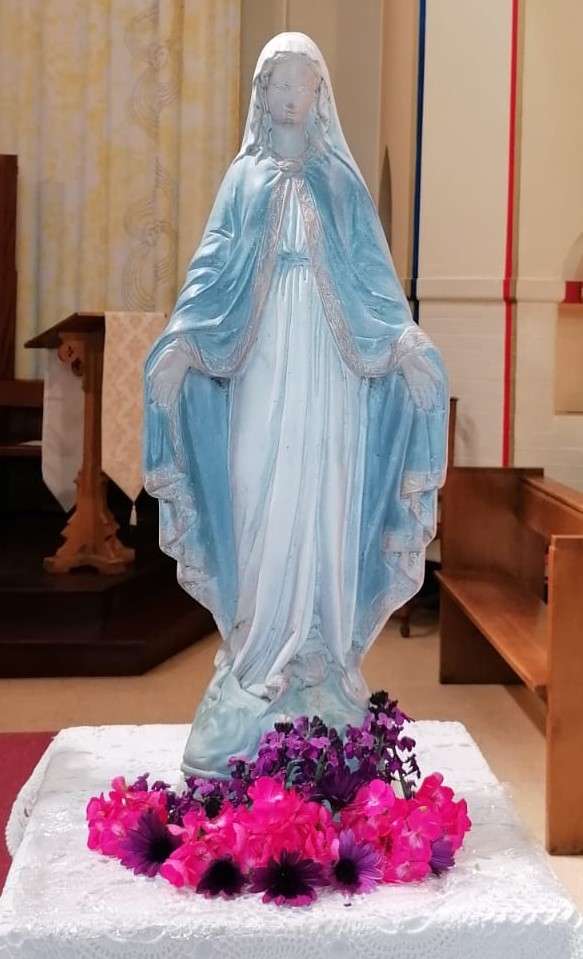 Colonel Tom
We all need to hear of events and stories which raise our spirits and encourage us especially during this rather bleak period. At the top of the list must surely be Captain Tom Moore who was promoted to honorary colonel last week, after raising £29 million for NHS charities. The grand total is now £32 million! The 100-lap walk of his garden during the month of April is a staggering achievement culminating in his 100th birthday on the 30th April! Many happy returns to Colonel Tom.
Birthdays
During the period of lockdown, however long that may be, I thought it would be a nice idea to mention at the Sunday and weekday Masses the names of children and young people from the age of 0 to 18 who are celebrating a birthday. On the day of their birthdays we will read their Christian names out and pray for them during the Mass.
Praying the Rosary Together
We are now in May a popular month for devotions to Our Lady; during the month we celebrate Our Lady of the Sacred Heart, Our Lady, Help of Christians and the Visitation of the Blessed Virgin Mary. For those who have benefited from livestreaming you will know we have been reciting the rosary on weekdays after Mass. Some people have contacted me to say how having something so accessible has encouraged them to find their rosary beads and join in the prayers. It has helped me also.
From the Garden to the Church
During May we thought it would be entirely appropriate to have a statue of our Lady in a prominent position on the sanctuary for you to see via the webcam. The two statues in the house, one of Our Lady of Lourdes and the other of Our Lady of Fatima are too small and barely visible. Equally, the one alongside St Joseph, situated in the alcove to the left of the baptismal font, whilst being large enough is too fragile to move. The most suitable statue is unknown to many of you because it comes from the presbytery garden and is what you now see to the right of the altar.
Fasting: not popular but very powerful
Much has been said about praying especially in a time of crisis and danger such as we have been experiencing these last couple of months. But perhaps not enough has been said about fasting. In fact, prayer and fasting go together. Sister Emmanuel Maillard from Medjugorje recently gave an interesting talk entitled The Forgotten Power of Fasting. In it she talks about the positive effects of prayer and fasting. She says It can bring about physical, spiritual and inner healing, help you discover your vocation, ease the suffering of souls in purgatory and even prevent and stop wars. She talks of how it can defeat Satan and draw a person closer to the Holy Spirit.
Fasting, she says, is demanding on the body. Satan hates those who fast because it's a threat to his power, and so he will convince you that you won't be able to do it. Sister Emmanuel doesn't feel that the fast most people practise during Lent is proper fasting. The Medjugorje fast is on Wednesday and Friday and is strictly only bread and water. In the Didache, from the first Century of the Church, it mentions how Christians would fast in this way. It is likely that Mary herself would have practised such a fast.
If you are interested why don't you have a listen:
Finally, thank you for joining us for Mass and devotions via the webcam; we can't see you, but we know you are there, and we are grateful. Just think, this is the only time you will be able to participate in the Mass wearing your pyjamas!
Someone suggested in an article in The Tablet that the notices on our church doors should not read, 'Closed until further notice' but 'He's out there'. They would certainly be a more positive message. Just remember – and it has been said many times before – God is greater than what we are facing.
God bless you,
Fr Steve